ABOUT US
Appalachian Getaways is distributed in selected metropolitan newspapers and college newspapers across the eastern and midwestern US. Articles and photos that support our goal of helping people enjoy the outdoors will gladly be considered for publication.
OUR GOAL
Our goal at Appalachian Getaways is to help rekindle our reader's passion for the outdoors and to get active people interested in the adventures available in the Appalachian area; kayaking, rafting, hiking, mountain biking, rock climbing, rappelling, camping, scuba diving, and more. We also strive to promote the culture of this fascinating area.
FEATURED STORIES-- Destination Tee Shirts offers trail and river shirts, Ash Devine on Tour, Rafter Dies on ACE Adventure Center, ACE Whitewater Rafting Upper Gauley River Scouting Trip. Tree Huggin' Treats, , Iplay Babywear , great safaris in Africa, Best Bed and Breakfast and Cabin Rentals in Western NC, and a new artist social network!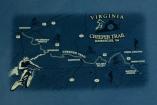 Destination Tee Shirts offer trail maps and River Rapid shirts
Chattooga, Nantahala, New and Gauley, Ocoee Rivers
Chimney Rock Great Trails, Virginia Creeper, and our favorite the Appalachian Trail! And more, check out their website for unique t-shirts.
Looking for a good bed and breakfast in Asheville, NC or cabin rental in or near Asheville, NC? Your search is over.
Need to get away on a luxury vacation? Now you can enjoy the best animal watching, whale watching from a kayak, jeep safari, women only safari, bird watching and more with OneWithAfrica.com
NOTE: Price reduction just in for the Music Festival in Zanzibar
A new artist social network is taking the web by storm. Check this out for new art calls for entry, artist resources, or art organizaton resources and communication. It's free!
Check out the illustrated tourist map of Asheville and Jack Moe's article on this vacation tourist information map of Asheville
Asheville, NC Trolley Bus Sightseeing Tours, provides the best sightseeing experience in Asheville, North Carolina. Read about the five best things about a Gray Line Trolley Tour. Also check out this article about Asheville's best sightseeing tour.
IPlay Baby Wear begins online sales of their organic gift sets for newborns and infants. Go to their organic clothing store for more info.
New Asheville business startup: Unique and decorative cremation urns designed by local artists. These cremation urn distributors have creative solutions for all your memorial needs. They even custom design funeral urns for pets!
Top Floor Studios, Asheville's premeir web design firm and SEO experts, expand their client base to include UN affiliate organizations in Ireland, South America and Africa. Read about Gesci and their ICT programs in developing countries.
Learn your Shoe Styles, get comfortable and purchase your discounted footwear at Houser Shoes Regional Stores or online with this shoe description article by John Weston. Learn about to convert men's shoe size for women here or learn about beach footwear or running techniques. We have information about men's walking shoes on the site now along wih information about how to clean leather shoes and tips on breaking in your new boots or How to Pick Shoes for Odd Sized Feet and
good fitting sandals New articles include How to pick volleyball shoes and choosing a running shoe for an over-prontator. Want to know more about Vegan Shoes? Check out how to find great shoes and be animal friendly.
2012 Twin Rivers Media Festival--May 25th, 26th, 27th, 2012-Asheville NC.
2008 Twin Rivers Media Festival Review

2007AstroEuros wins 1st Place in Twin Rivers Media Festival's Feature Film Category. Read review of AstroEuros by Barry Omaload
UPDATE on Tree Huggin Treats Organic Kosher, Vegan Candy Bars
Veg News picks the crispy cat candy bars and tree huggin' treats the Company of the year. Check out their award here.
Avandaro: The Day the Music Died in Mexico
Miller Mountain Cabin offers Wedding, Retreat and Teambuilding Ropes Course in Asheville, North Carolina
Appalachian Singer/Songwriter Ash Devine to Tour East Coast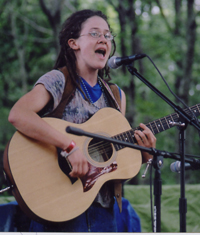 By Barry Boston

Ash Devine announces her 2008 East Coast Tour this week at the Courtyard Gallery in Asheville, North Carolina. This year the capacity crowd at the Twin Rivers Media Festival event on May 5th will be treated with a two hour concert to kickoff her tour.
Her unique Appalachian style also includes influences from Reggie, Country, and Folk Music. "I have always been spiritually connected to artists that include Bob Marley, Ani DiFranco, and Joanne Mitchell, explains Devine, and I think my music reflects some of their styles and energy.? Ash Devine's roots begin with Old Time music in the mountains of Virginia. ?I began teaching myself guitar at the age of twelve and by the time I was thirteen, I began performing in local coffee shops, and music venues,? states Ash. She quickly became well known for being a talented young singer song writer. She is now living in Asheville North Carolina where she continues to pursue her musical career. Some of Devines' musical influences include folk artists such as; Joni Mitchell, Ani Difranco and Bob Dylan, and also local musicians which surrounded her throughout her life.

Devines passionate voice, unique guitar rhythms and powerful, socially conscious, poetry driven lyrics are known to captivate audiences. Audience members have often described Ash's style as fresh, and "of a new essence."

Ash Devine is a singer to watch and bound to be discovered by the rest of the East Coast and Appalachia soon. Don't miss her performances, they are listed at her site: www.ashdevine.com
Ash has been featured as an artist at indoor venues, benefits, annual festivals and other events such as; Floyd World Music Festival '02, '05 (featuring Ani Difranco, David Grisman and many others ), Stepping Out (Blacksburgxs Street Festival, annually), Rock the Vote( Syracuse, NY '04), Blacksburgxs First Night, The Annual School of America's Protest ( Fort Benning G.A. ,Featuring Pete Seeger ).


Asheville, NC March 2008--Eating Dark Chocolate is Good for You
Asheville, NC March 2007-- Tree Huggin' Treats is thrilled to announce the release of the world's first organic candy bar! The Asheville, NC based company just launched its new and improved CRISPY CAT candy bars at Expo West in Anaheim, CA on March 8th. Expo West is the largest natural foods tradeshow in the country, drawing over 45,000 attendees and 2500 exhibitors from every corner of the industry. Tree Huggin' Treats is proud to announce its CRISPY CAT candy bars won "Best of Show" in the new vegetarian products category presented by San Francisco based VegNews magazine. Asheville's sweetest company will be featured in the magazine's next issue.
Tree Huggin' Treats is now preparing for the local re-release of its CRISPY CAT candy bars at the end of March. The local outfit has spent the past six months transitioning its operation to be able to meet the demands of growing into the national marketplace. The company has dramatically improved its packaging and CRISPY CATS are now able to exist on the shelf at room temperature after previously requiring refrigeration.
Company founder Joel Schantz is genuinely pleased with his product's transition, "I could never have imagined putting out such a high quality product while keeping it this fun. It's a dream come true. And to think all of this started in my cuisinart in "The Hop's" kitchen." Indeed, Tree Huggin' Treats got its start four years ago at the Merrimon Avenue ice cream shop. The product was handmade and there were several varieties of flavors and even vegan ice cream. Schantz's vision was to make vegan, organic sweets. Over time he has refined his ability to defy the gravity of the healthy sweets stigma and has now received both local and national acclaim with stores as far away as Hawaii interested in carrying the product. These are indeed exciting times for the brainchild of Schantz, the bald local icon.
Tree Huggin' Treats is releasing three flavors of its CRISPY CAT. Mint Coconut, Roasted Peanut and Toasted Almond will hit the shelves first, with other flavors to follow once the CRISPY CAT establishes itself in the national marketplace. Tree Huggin' Treats fans can look forward to the same heavenly crispy rice insides drenched in sinfully rich dark chocolate embellished with their favorite ingredients of mint coconut, roasted peanut or toasted almond. Whatta Treat!
Boy Scout Saftely Appears in Question at ACE ADVENTURE CENTER, ACE Whitewater
Delaware Boy Scout leader indicted for sex crimes at Ace Whitewater Rafting's, ACE Adventure Center on the New River Gorge in West Virgina.
ACE ADVENTURE CENTER, ACE Whitewater, HAS ANOTHER DEATH ON THE GAULEY RIVER IN WEST VIRGINIA
A Charleston West Virginia newspaper reported:
The body of Neville Williams, 67, of St. Michaels, Md., was located at about 12:45 p.m. Thursday, said Chuck Hartley, chief ranger for the National Park Service. Williams' life jacket was pinned to a crack in a rock known as Woodstock Rock.
Read the full story at www.wvgazette.com and go to their archives and use the key words "gauley river"
#####
ACE's safety record can be viewed at:
http://www.wvdnr.gov/LEnforce/White/RiverMgt/wvww_pubs.shtm

Drowning at ACE Whitewater, ACE Adventure Center rafter was on a Scouting White Water Trip
The Beckley Newspapers in West Virginia are reporting that Neville Williams of Michaels, MD drowned while on a scouting trip with ACE Adventure Center. It appears that ACE Whitewater, ACE Adventure Center is the only rafting company that does this summer trip on class V water as the water is lower and more technically challenging. Read full stories here:
http://www.register-herald.com/siteSearch/apstorysection/local_story_166225630.html

http://www.register-herald.com/siteSearch/apstorysection/local_story_165230836.html

GET INVOLVED
For Editorial consideration, contact:
Barry Bostec
828-243-3105
Barry@AppalachianGetaways.com

For Events to be included in our calendar:
Info@AppalachianGetaways.com

Enter our film and video festival with your short films or scripts.